Available Services
Cozy up in the comfort of your own home to prepare for your journey into parenthood, or join us in person in Chicago. All classes and services are currently available on Zoom. All classes and services are also offered as private sessions.
Birthing From Within Childbirth Classes
Birthing From Within classes are for you if you:
-plan on birthing in a hospital, birth center, or home (all are welcome!)
-want to know what will happen during pregnancy, labor, and postpartum
-want to learn about comfort measures and pain-coping techniques
-want strategies to make your own decisions and advocate for yourself
-want to explore your own intuition and wisdom as you prepare for this rite of passage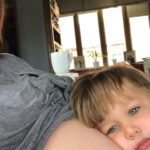 Birthing Again Childbirth Classes
Birthing Again classes are for you if you:
-have already birthed a baby and want the "quick version" of the nuts and bolts of labor
-want to prepare a sibling for a new baby
-want to add comfort measures, pain-coping techniques, and decision-making strategies to your toolbox
-want to make a postpartum plan that works for your family
-want to explore your own intuition and wisdom as you prepare for this rite of passage (it IS a rite of passage every time!)
Postpartum Planning Sessions
Postpartum planning sessions are for you if you:
-want help building a custom plan for postpartum rest, comfort measures, nutrition, and infant bonding
-want to have realistic expectations for your first postpartum, or make postpartum different this time around
-want to prepare for the postpartum period that all parents deserve, but is often missing from our society
Prenatal Breastfeeding Workshops
Prenatal breastfeeding workshops are for you if you:
-are expecting a baby and plan on breastfeeding
-want to know how to get started with breastfeeding (it does NOT all come naturally!)
-want to avoid some of the common pitfalls that cause nursing to end before you are ready
Frequently Asked Questions
Do I really need to make time for Childbirth Classes?
I believe each family's childbirth experience is important. When parents know their options and what to expect, they're more likely to feel respected and supported during birth and postpartum. That makes for a more positive transition to parenthood.

Childbirth classes also cover things like pregnancy nutrition, tips for partners during labor, postpartum comfort measures, and more!
What is Postpartum Planning?
Did you know that, if you're nursing, you need even more daily calories after delivering a baby than during pregnancy? Or that exercising too soon can increase your chance of uterine prolapse? Or that lack of social support is a risk factor for postpartum depression?

Unfortunately, our culture is not great at talking about this stuff or supporting postpartum families. It is vital for your health and well-being to give yourself time to heal and bond with your baby. Postpartum Planning means setting aside time to make a plan for rest, recovery, nutrition, and infant bonding.
Why would I take a Prenatal Breastfeeding Class?
Around 80% of moms in the US want to breastfeed. Only around 25% end up breastfeeding/pumping exclusively for the first 6 months. That's in large part because we lack the support we need, and we often don't grow up observing how to breastfeed. Breastfeeding is natural, but it also takes learning! Knowing what's normal and how to avoid common pitfalls can help you meet YOUR breastfeeding goals, whatever they may be.
Where are classes held?
All classes are currently held over Zoom.